Guidance and Counseling Services
William Academy's guidance counselors conference with students on a regular basis to monitor their learning progress and discuss any academic concerns. We feel passionately about enabling students to achieve their full potential.
Our integrated counseling services help students:
research fields of study and careers
plan their courses in order to achieve their academic and career goals
explore their post-secondary options
resolve any academic concerns
assist in settling in Canada and adjusting to a new school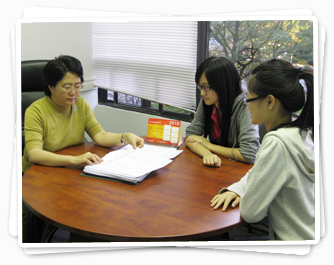 Individualized Learning Plans
In order to develop an ideal learning plan, students are given a diagnostic assessment upon enrollment at William Academy. This written and oral assessment allows guidance staff to best place students in classes based on prior knowledge in core subjects including English and math.
University Application and Admission
Our counselors and staff guide students throughout the process of post-secondary application and admission in a number of ways. We consider university rankings, location, programs, tuition, and scholarships, in addition to individual student goals and needs. According to the academic objectives and interests of a student, William Academy's guidance counselors can recommend programs and post-secondary institutions.
Please see the University Placement page for more information.