We invite you to join our Saturday educational seminars run by veteran Toronto secondary school teachers and university recruitment officers.
The seminars are intended for graduating students hoping to attend Canadian universities and includes helpful presentations by both post secondary institutions and local high school teachers. They are excellent opportunities for students and guardians to have their university admissions questions answered, or to learn more about various universities and their programs.
Please check out the following link on a regular basis.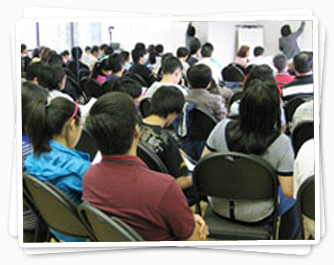 Please call to reserve your seats: 416-640-2000.

Past seminars:
Guest speaker: Teacher Linda, a veteran Toronto secondary teacher with more than 20 years of teaching experience in various prestigious secondary schools in Toronto.
What are the current Canadian university rankings? What are their admission requirements respectively?
What is the impact of course selection and academic performance in high school on the intended field of study in University?
Is it true that University acceptance is solely based on the six best-scored courses in Grade 12?
How can I strategically choose my six courses in Grade 12?
How can I improve my Grade 12 grades within a short period of time?
Guest speaker: Ms. Chen, professional career counselor
1. How can parents help their children begin their high school career on the right foot?
2. What are the factors that influence a  student's choice in his/her future career?